2022 Alaska Governors Chugach SS143
All-Inclusive Dall Sheep Hunt Raffle
          " The most coveted Dall Sheep permit in all of North America" 
           "Unquestionably The Best Dall Sheep Hunt Raffle Ever Offered"
---
Tickets are $100 each, 6 for $500, 13 for $1,000, 20 for $1,500, 28 for $2,000 or 45 for $3,000
SCI Alaska Chapter 45th Annual Banquet Raffle Winners:
1:  The Ak Dall Sheep Hunt Raffle Winner is David Kestner.
residents, nonresidents and nonresident aliens.
                         The permit and the hunt are both fully transferable.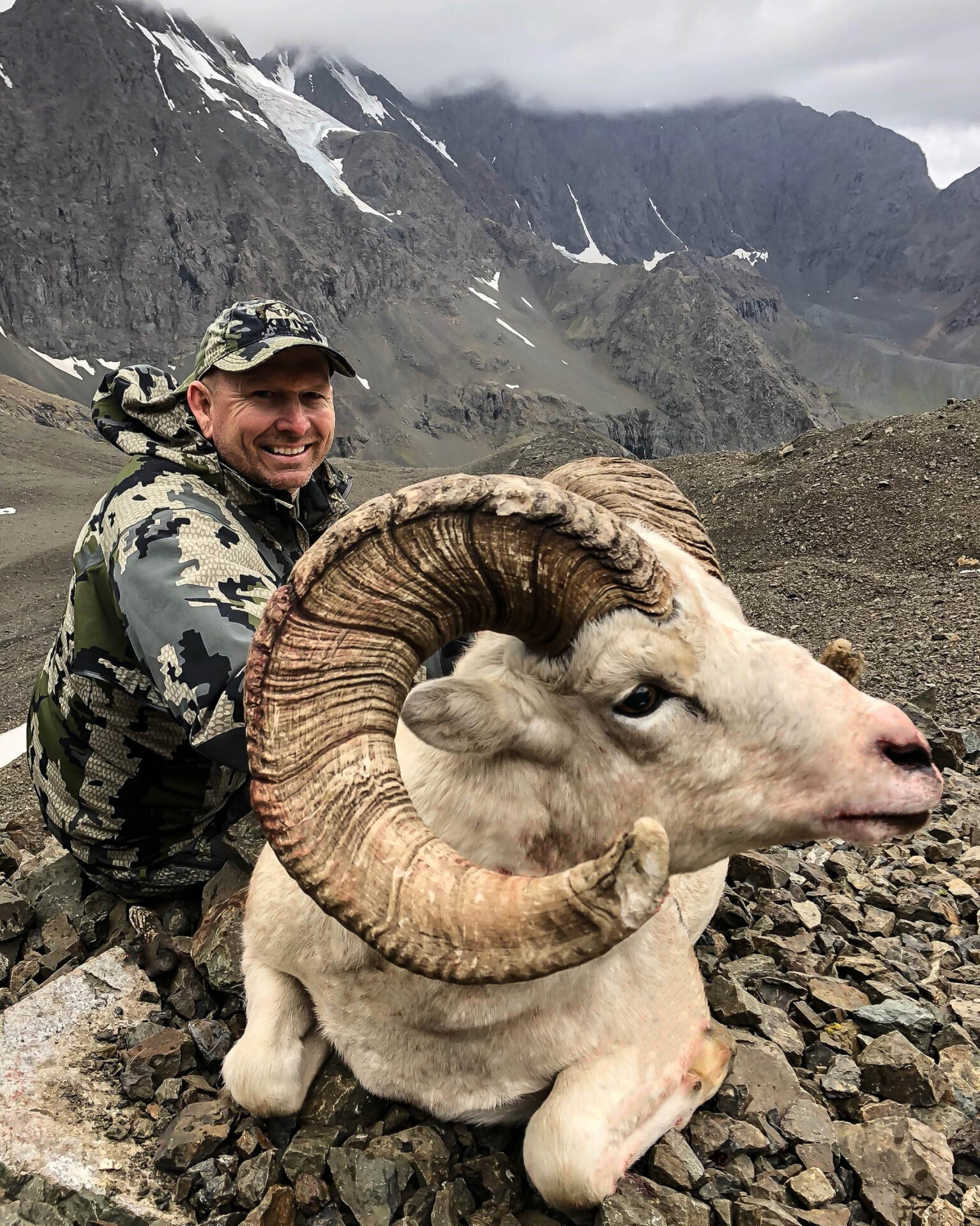 Raffle Information
SCI Alaska Chapter is pleased to offer the most coveted Dall Sheep Permit in North America, the prestigious Alaska Governors Chugach (SS143) Dall Sheep permit.
SCI Alaska has combined this great permit into a all-inclusive Dall Sheep Hunt Raffle that includes a 10 Day Fully Guided Sheep Hunt, 10 days of pre-scouting prior to the hunt, an unbelievable gear package and a taxidermy discount. We've even covered transportation and the guide tip!
Drawing will be held on February 26, 2022 during the SCI Alaska Chapter Banquet at the Dena'ina Center in Anchorage Alaska.
This Hunt Of A Lifetime package includes:
The Alaska Department of Fish and Game's prestigious Chugach SS143 Governors Dall Sheep Tag. On Jan. 15th, 2021, the permit alone sold for $175,000 on live auction.
10 Day's of pre-scouting prior to your hunt.
A 10 Day fully guided Dall Sheep Hunt $20,000 
A custom built rifle by Steve Hallenbeck of Double Broomed Mountain Rifles. MSRP $6,000
3 boxes' of Hornady 6.5 prc ( 1 147 gr ELD Match Grade, 2 143 gr ELD-X® Precision Hunter® 143) Ammo.  MSRP $150
Swarovski Z6 2.4-15×44 P L BRH $2,000
Swarovski EL 10 X 42 Binoculars MSRP $2,100
Barney's Sports Chalet complete sheep hunters package including sleeping bag, sleeping pad, winners' choice backpack from and amazing assortment you top of the line gear, clothing, walking sticks and game bags. Everything you need for the hunt! MSRP $3,000
Dan Williams @ Wildlife Artistry Taxidermy donated $1000 towards a shoulder mount or $2500 towards a life size mount.
$2,500 Guide Tip!
A check for $1,500 to cover transportation and other necessities!
The Alaska Governors Chugach Dall Sheep hunt Raffle winner, will be hunting the area that has produced 4 Boone & Crockett's Top 10 all-time record rams! 
The Hunt:
This is a 10 Day fully guided Dall sheep hunt with Freelance Outdoor Adventures. Freelance Outdoor Adventures and their team of seasoned professional are well known throughout the sheep hunting community as a world class guiding company that has built its reputation around taking trophy class rams!
Prior to your hunt Freelance Outdoor Adventures team of seasoned professional guides will spend 10 days of their own time, personally scouting for and locating a ram that truly measures up to the Chugach (SS143) permit areas reputation!
August 8th thru the 20th, you will be guided and supported by 2 fully season professional sheep hunting guides. 

Trophy field care and prep

Field transportation, lodging (tent) and food during the hunt.
$2,500 for the guide tip, provided directly to the outfitter
$1,500 for transportation and necessities! 
The Rifle
Steve Hallenbeck of Double Broomed Mountain Rifles has created a sheep hunters dream rifle chambered in 6.5 PRC and loaded with defiance's anTI action with integral recoil lug and a mini-m16 extractor, Bartlein 23" 5R Alaskan contour carbon wrapped barrel, 1-8 twist with 5/8×24 threaded end with protector, crisp 1.5-4lb adj. Trigger Tech trigger, McMillan Hunters Edge 100% graphite stock with Hawkins bottom metal floor plate. Including a Swarovski Z6 2.5-15×44 mm obj, 30 mm tube with BRH reticle and 3 boxes' of Hornady 6.5 prc ( 1 147 gr ELD Match Grade, 2 143 gr ELD-X® Precision Hunter® 143) Ammo. MSRP $8,150
About the Area:
The Alaska Governors Chugach Dall Sheep Permit Area encompasses all drawing permit areas of the Chugach Mountains Range, within Alaska Game Management Units 13D, 14A and 14C. This includes Metal and Friday Creeks, Tazlina Glacier, and the Ram Valley and Falls Creek areas within Chugach State Park.
The AK Governors Chugach Mountain Permit Area currently holds 4 of the Top 10 all-time record Dall's Sheep in Boone & Crockett's Big Game Records Book. This includes Louis W. Breland's 2020 ram which scored 184-1/8 points and made its home in the Chugach Mountains of Alaska. This incredible ram is currently the number 6 Boone & Crockett all-time record Dall's sheep.
Winning this raffle gives you the very real possibility to put a Dall's ram from Alaska into the record books. Sheep harvested by the 2017, 2018, 2000 and 2020 Alaska Chugach Dall's sheep permit holders broke the magic 170 point mark, and the guides and hardcore hunters that know this area well insist that even bigger ones are making it through the hunting season and the Alaskan winter, and they are still out there.
Finally, by purchasing a raffle ticket, you are supporting Alaska's Dall's sheep research program and making a critical contribution to sheep research and management in Alaska.
SCI Alaska Chapter is honored to have been chosen to provide this unique opportunity to win this AK Governors SS143 Chugach Dall Sheep Hunt package.