Join us for alaska's Greatest gathering of hunters
Alaskan Hunting Expo & Sportsman's Banquet
***  Great Food, Good Friends, Live Music and more ways to win than any other event in Alaska! ***
Friday, February 23, 2024 American Hero's Night Tickets. 
Saturday, February 24, 2024 SCI Alaska Chapters Sportsman's Banquet. 
Dena'ina Center • Downtown Anchorage, Alaska
Expo & Banquet: February 24, 2024
Sportsmans Banquet Saturday February 24, 2024 Tickets
American Heros Night February 23, 2024 Tickets
Click To visit the Live Auction  Items
Online live Now!  New Items added daily!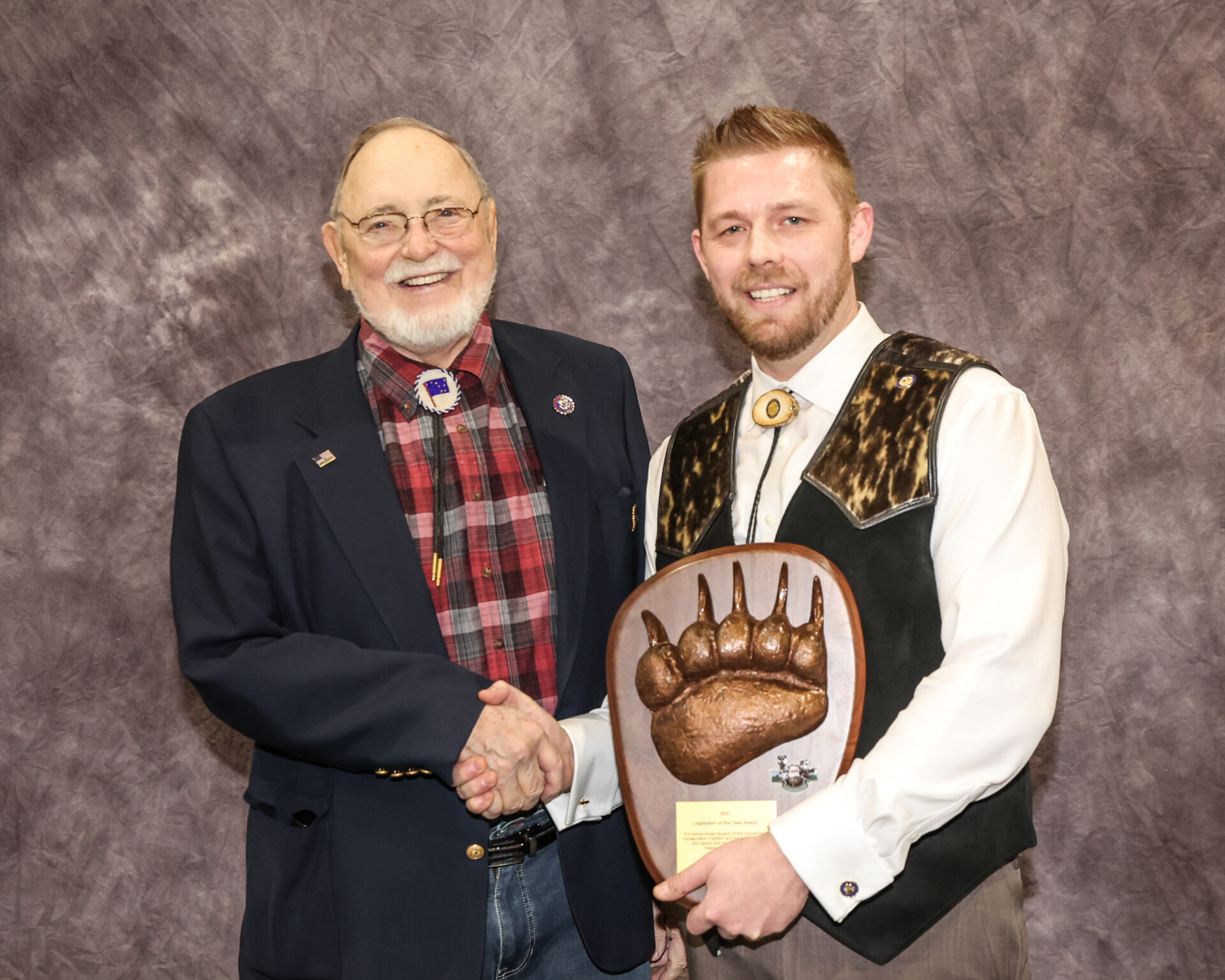 2022 Legislator of the Year Senator Josh Revak and our beloved Congressman Don Young!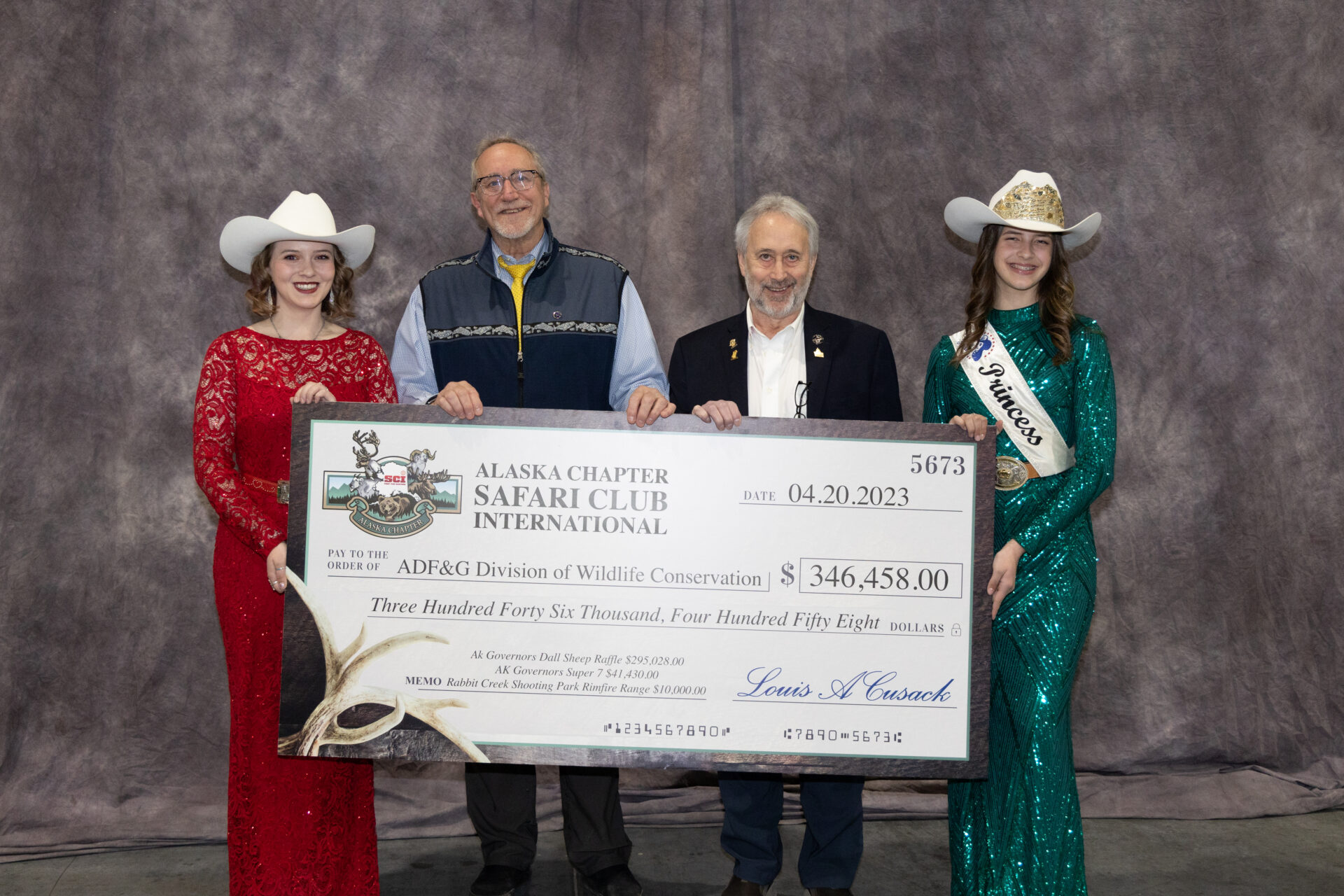 In the center: Alaska Commissioner Doug Vincent-Lang and the Division of Wildlife Conservation Director Edward Grasser pictured with SCI Alaska Chapter's 2023 contribution check that was present at our 2023 46th Annual Sportsman's Banquet. 
Seminars – Feburary 24th, 2024. 
To Be Announced!
KAHTNU SEMINAR ROOM 1
 9:30 AM -10:30 AM 
Speaker: Lowell Gilliland   Field Judging a Trophy Bears
This is the ultimate bear hunting primer, for any hunter, from novice to advanced. Field judging bears for size and hide quality, Identify Boars vs Sows, Develop your own bear hunting theory/methodology, Novice and seasoned bear hunters are sure to learn valuable information and field applicable skills from this seminar.
10:45 AM -12:15 PM 
Speaker: Russell Knight          Bear Hide Field Care
Russell Knight, Owner of Knight's Taxidermy will be doing a Brown & Black bear field care class. Since spring bear season is next up! It will feature all the things a hunter needs to successfully get a trophy out of the field to a taxidermist.
12:30 PM –  2:00 PM
Speaker: Darryl Verfallie  Bear Baiting
Benefits of baiting, getting started, regulations, site selection/location, setup and equipment, stands blinds, barrels, Importance of scent/ types of bait, Site Maintenance and  cleanup.
2:15 – 3:45
Speaker: Joe Want Joe Want and Brad Wendling of ADF&G
Joe will provide an overview of the history of Dall Sheep regulations and aging and judging sheep. Brad's provide and an update on the Horn Morphometric study, sponsored in part by SCI, and on-going sheep research in northern Alaska.
 KAHTNU SEMINAR ROOM 2
 9:30 AM – 10:30 AM
Speaker: Lacy Hoffman  Raise 'Em Outdoors 
Raise 'Em Outdoors, is dedicated to helping kids from any background get outdoors, learn all about hunting, fishing, bringing food to the table, and the outdoors as a lifestyle. This is an intro to the outdoors and is designed to bring families together
10:45 AM – 12:15 PM
 Speaker: Dave Stoddard         Full Curl Archery
Join Dave Stoddard with Full Curl Archery and learn how to pick the perfect bow for your body type and build. Dave will go in-depth to help you understand draw length, draw weight, various Cam designs, and efficiencies.
12:30 PM – 2: 00 PM
Speaker: Brent Cole Law Office Of Brent R. Cole, P.C.  Interfacing with Wildlife Officers in the Field. 
Brent Cole, a lifelong Alaskan hunter, fisherman, and pilot, will share some tips for how to interact with law enforcement officers in and out of the field.  He will talk about his experiences in handling the most prevalent hunt violations and throw in a few funny stories.  Finally, if there is time, he answer any questions he can.
2:15 PM – 3:45 PM
 Speaker: Danial Butrago Alaska Wild Project 
Alaska Will Project will be onsite conducting a live Podcast, speaking SCI Board Members about the history of the Safari club, what it is doing in Alaska to protect our hunting heritage. Daniel will  also be interacting with the crowd, talking about all things Alaska Outdoors