Join us for alaska's Greatest gathering of hunters
Alaskan Hunting Expo & Sportsman's Banquet
***  Great Food, Good Friends, Live Music and more way's to win than any other event in Alaska! ***
 Friday, April 21, 2023 American Hero's Night
Saturday, April 22, 2023 SCI Alaska Chapters Sportsman's Banquet
Dena'ina Center • Downtown Anchorage, Alaska
Expo & Banquet: April 22, 2023
Sportsmans Banquet Saturday April 22, 2023 Tickets
American Heros Night April 21, 2023 Tickets
Click To visit the Live Auction  Items
Online live Now!  New Items added daily!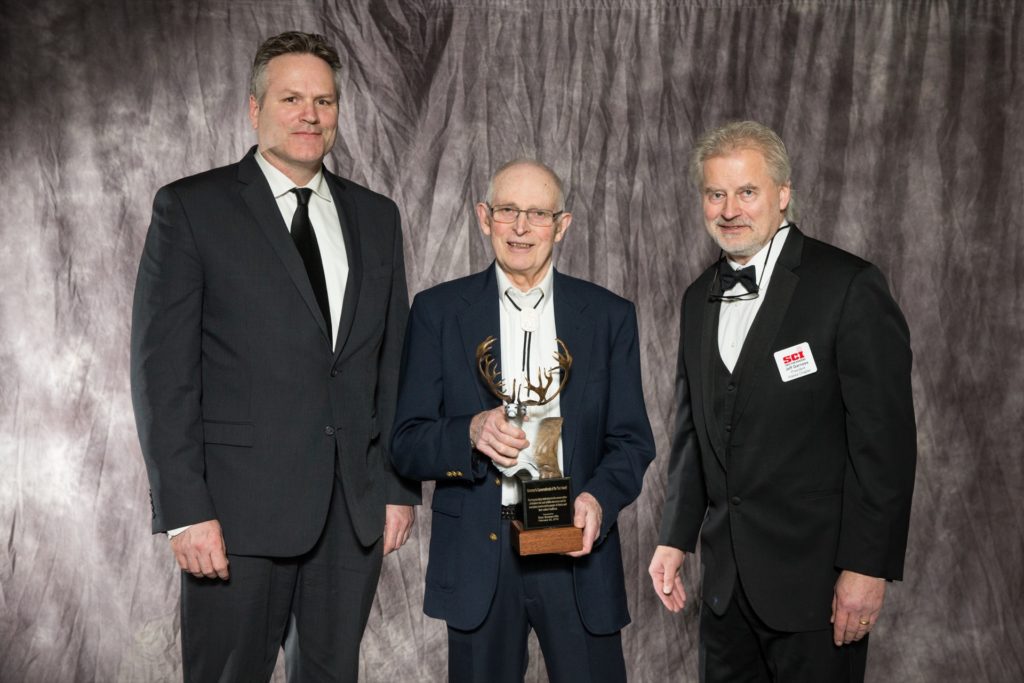 Alaska Governor Mike Dunleavey, Ron Somerville (2019 Conservationist Of The Year Award Winner) SCI Alaska President Jeff Garness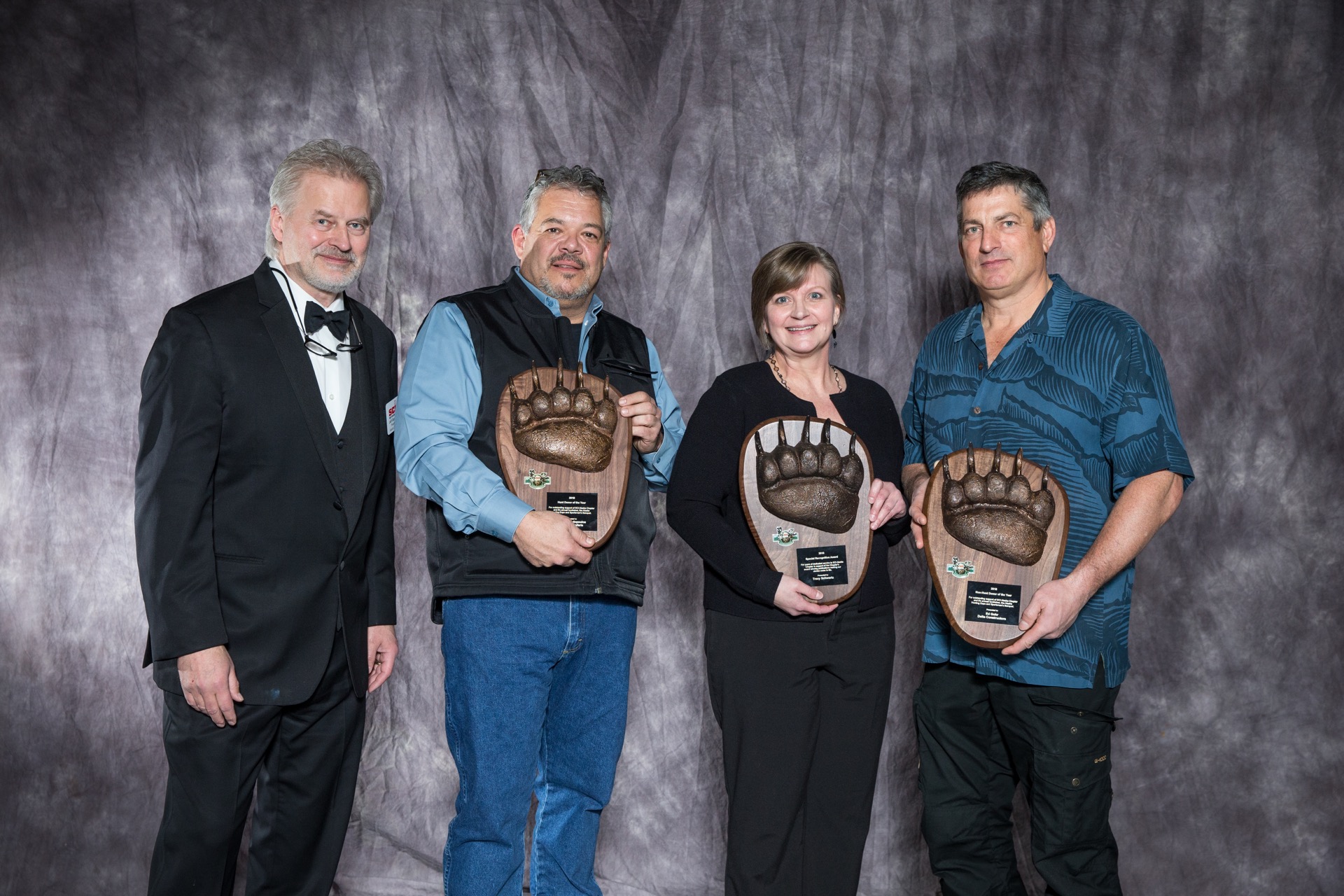 Left to right: Jeff Garness President of SCI Alaska, Donor of the Year Bob Candopoulos of Saltwater Safari. Special Recognition Award Winner Tracy Schwartz of South Fork Graphics and Donor OF The Year Ed Gohr of Delta Constructors.
Seminars – April 22nd, 2023
To Be Announced!
KAHTNU SEMINAR ROOM 1
  "Bear Skinning and Caping You Trophy"
9:30 AM -11:00 AM 
Speaker: Russell Knight   Knight's Taxidermy
Russell Knight, Owner of Knight's Taxidermy will be doing a Brown & Black bear field care class. Since spring bear season is next up!
 It will feature all the things a hunter needs to successfully get a trophy out of the field to a taxidermist.
11:15 AM – 12:14 PM
Speaker: Katelyn Zonneville     ADF&G
 Katelyn Zonneville of ADF&G will be discussing the educational programs that ADF&G have to offer. Those programs include, the Becoming an Outdoors-Program, the National Archery in the Schools Program, Alaskans Afield Program, Outdoor Youth Days Summer Camps. She will be giving an overview on what ADF&G has to offer, how to participate, who can participate, and how to get involved in helping.
12:30 – 2:00
Speaker: Shawn Jenson Reloader / Ultimate Long-Range Shooter
Join Shawn as he teaches basic reloading what equipment is need and how to get properly set up. He will also share with you tips and tricks to getting the maximum performance out of each round.
2:15 – 3:45
Speaker: Tyler Freel   Sheep Hunting Gear and Tactics
Tyler will provide you with successful tactics that have been proven afield while hunting sheep. He will also guide you on preparing for your hunt as he explains what gear would be suitable and most valuable afield.
KAHTNU SEMINAR ROOM 2
 9:30 AM – 10:30 AM
Speaker: Lacy Hoffman, Erin Crooks 
Raise Em Outdoors, is dedicated to helping kids from any background get outdoors, learn all about hunting, fishing, bringing food to the table, and the outdoors as a lifestyle. This is an intro to the outdoors and is designed to bring families together
10:45 AM – 12:15 PM
 Speaker: Dave Stoddard         Full Curl Archery
Join Dave Stoddard with Full Curl Archery and learn how to pick the perfect bow for your body type and build. Dave will go in-depth to help you understand draw length, draw weight, various Cam designs, and efficiencies.
12:30 PM – 2:00PM
 Speaker: Knox Williams          American Suppressor
Silencer. Suppressor. Muffler. Moderator. Can all these words describe the same thing – one of the most misunderstood tools in existence. Join us for a crash course in all thing's suppressors, as Knox Williams, Executive Director of the American Suppressor Association, walks through the history, legalities, and practical applications of suppressors both at the range and in the field. Trust your ears when they tell you this is a seminar you won't want to miss!
 2:15 PM – 3:45 PM
 Speaker: Sara Stallone     Leupold & Stevens
Join Sara Stallone with Leupold & Stevens to demonstrate Optic setup and Optimization for Field Success. She will cover Proper scope mounting, Multiple focus points, Optical Zero for sighting, Field ready, and Field fixes, so you are dialed in when you need to make that perfect shot.